636-928-0760
https://patrickdickinsonteam.pillartopost.com/home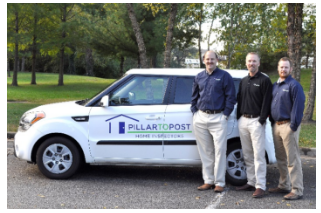 Patrick Dickinson – CEO & Home Inspector
Patrick holds a Bachelor's Degree in Construction Management and an Associate's Degree in Applied Electrical Sciences. Prior to becoming an inspector, Patrick worked for a large builder in the St. Louis area as a Project Manager; he has since been doing inspections since 2007. Patrick and his wife Jenni have a beautiful daughter named Ryleigh. When he's not spending time with his family, you can find him at local rinks around the area playing ice hockey, hunting or fishing.
Eric Davis – Lead Home Inspector
Eric has a Bachelor's Degree in Mineral Geology. Eric used his degree to work for the Environmental Protection Agency doing asbestos inspections as well as air quality control in and around the city of St. Louis prior to working for Pillar To Post. His dedication to service is second to none. Eric has a passion for renovating old Victorian homes, playing sports and tending to his many gardens.
Bruce Drake – Home Inspector
Bruce has a background in Civil Engineering and comes from Santa Cruz, California. Bruce's calming and laid-back demeanor has earned him the nickname "The California Kid". His enthusiasm for inspecting will ensure your experience will exceed your expectations. Bruce has a beautiful daughter named Malena and when he's not spending time with her, he's usually rocking out playing music or exercising.